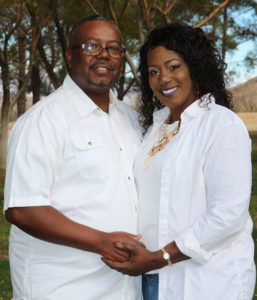 Rev. E. Benjamin Thomas, III was appointed as Pastor of Victory Baptist Church in 1993.
Raised in Ridgecrest and Los Angeles California, Pastor Thomas and his wife, Evang. Brenda, have four beautiful children, daughters, Cheree' and Amanda, sons Eddie B and Scott. He is also a proud grandfather of Alena Joy and David Benjamin.
Pastor Thomas holds a degree from U. C. L. A. in Fire Sprinkler Systems Design, an A. S. Degree in Mechanical Design Engineering from L. A. Trade Tech College and an A. S. Degree from Cerro Coso Community College in Ridgecrest, CA.

Pastor Thomas is an ardent spiritual leader who earnestly advocates youth programs. He believes in the furtherance of Christian education, and is committed to helping youth obtain their educational goals. He constantly strives to involve all members of the congregation in doing God's work, and sets a positive example for others through his thoughts and deeds.
Currently Pastor Thomas serves as a Police Chaplain for the City of Ridgecrest. He is dedicated to tearing down the walls of racism and poverty, while equipping men, women, and children with practical teachings on Godly principles.
He has always endeavored to teach the truth of the word of God in an uncompromising way. He loves his congregation and his desire for them is to take full advantage of the means of grace that God has given to us to persevere and endure in the faith until the end. He takes this ministry seriously as one who has to give an account. So in light of all this, it is not surprising to see his passion for the ministries of the church such as: prayer, discipleship, education, and evangelism.